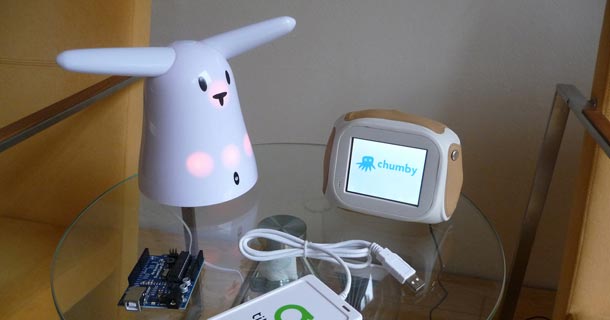 Canadians spend more time online than watching TV, according to new research. Not surprising, since most of the content we encounter is born online. Blogs, e-mails, tweets and YouTube videos wouldn't exist without the Internet. You need a connection. And since it's largely just computers and phones that have Internet connectivity, this often means digesting this digital content on devices that weren't designed for consumption.
It's strange that we've accepted this disparity between design and usage; we think it normal to watch a movie on a device designed for typing, and struggle to type e-mails and texts on devices designed for verbal conversation. Fortunately, there are several new devices designed specifically for digital media consumption.
Here are three examples:
---
1. The Chumby
The Chumby is a small, touchscreen internet appliance for the home. It displays live information such as weather forecasts, news headlines, or photos from your online friends. It also doubles as an internet radio and alarm clock.
The device explores bringing Internet content into other parts of our lives. For example, it's actually quite useful to have the morning headlines delivered to while you eat your breakfast, without having to boot up your PC. And a quick weather check on your way out of the door can be very helpful. You can even use the Chumby for "ambient social networking" – keeping informed of what your friends are up to by glancing at a screen of Facebook or Twitter updates.
---
2. CODA
Quentin-Stafford Fraser believes that most information has a natural home, which is rarely your PC. With the Camvine team, he's built technology that displays information in any location you can install a monitor and an Internet connection. Camvine removes the limitations of having just one monitor socket, a short monitor cable, and a limited amount of screen space. No longer must you struggle to watch a movie and edit a Word document at the same time, you can just set up a second screen for movie watching.
With their CODA device and a couple of external screens, your content and information can spread throughout your home, away from PCs, to wherever it is most needed. This can also be useful for businesses, in storefronts or waiting rooms (See video to the left).
This video shows another fun Internet device, the nabaztag, a toy Internet rabbit, similar to the Chumby, but using audio and animation instead of a screen. You can program CODA to display different things as you interact with your rabbit (or any other programmable device).
---
3. The iPad
Unless you've been living under a rock you've heard about Apple's new tablet device.  The iPad offers an enjoyable way to watch and listen to digital content without the bulk of a computer or the small, awkward screen of a phone.
Many dismiss it as "a giant iPod Touch", but the iPad brings huge benefits for heavy Internet users. My computer was designed as a general purpose machine, but now it does too much. Internet media has invaded my workspace, competing for my time and attention. With an iPad, I'll move most of my browsing, blog reading, and social networking off my laptop, and re-dedicate the computer to the productive work it was made for.
Research at the University of Birmingham has confirmed that having separate devices for separate purposes can reduce cognitive load and make it easier for the user to be effective – so having an iPad for media consumption, and a laptop for production, may just make us all less distracted, and more productive.
---
We're at the beginning of a new trend, where new devices help us find new roles for computers in our lives, improving our life balance and making us comfortable digital media consumers. What devices will come next? Maybe a recipe display screen in your kitchen, or moving digital artwork based on live Internet activity from your friends.

I hope this new breed of devices won't make the same mistake as PCs and phones, and add more and more functions. That would take us right back to square one. Apple says the new iPhone/iPad OS introduces multi-tasking – do we really need multi-tasking on a consumption device? Do you need multi-tasking on your television?

With more and more content being created every day, attention management is already a growing concern. Perhaps limiting devices to specific functions and content to specific places will help us cope in the future.
---
Image credits: Chumby image is an official publicity photo, copyright Chumby Industries. iPad image by Mike Baird on Flickr. Marquee image (internet devices) by TonZ on Flickr